The Romantics premieres on Netflix to Acclaim and Huge Ratings
2/2/2023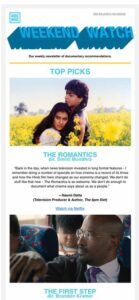 Shortly after DocNYC acclaimed THE ROMANTICS as their pick of the week, IndieWire called it "A stunning new docu-series — Essential and unprecendented".
We've been reading reviews today from all around the world, as THE ROMANTICS quickly became the most watched program in the world.
Congratulations to editors Michael Vollmann and Michael Bourne on this amazing premiere.